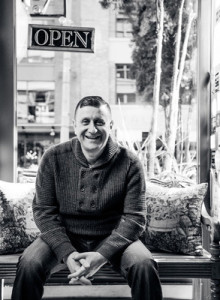 From Vancouver Magazine, May, 2014
By Gary Stephen Ross
He does no PR, so most of his accomplishments go unheralded. He runs his restaurant, Cioppino's Mediterranean Grill & Enoteca, like a military operation, which keeps his kitchen brigade on alert. He says exactly what he thinks, which doesn't always endear him to others. But nobody doubts Pino Posteraro's hard work, dedication, and singular talent.
Even when he's organizing a conference at the Sheraton Wall Centre, or cooking for Formula One drivers in Italy, or being honoured by Gambero Rosso (the Italian wine guide) for his contribution to Italian cuisine, or arranging for $25,000 in scholarships for young chefs at Vancouver Community College, or flying off to Toronto to judge Top Chef Canada-all of which he quietly did in 2013-Posteraro, 50, personally upholds the standards that have made Cioppino's a fine-dining magnet since it opened in Yaletown 15 years ago.
There's a reason people with a love of great food-from Hollywood stars and CEOs to pro athletes and international dignitaries-make a point of stopping in. It has nothing to do with seeing or being seen, and everything to do with memorable dining experiences. Never has complexity been made to seem so simple on the plate.
Posteraro sources the best ingredients and fashions them into dishes that grow authentically out of his southern Italian upbringing and West Coast environs. Some are classics (pappardelle with braised veal cheek and porcini mushrooms; osso buco with saffron risotto), others strikingly original (Salt Spring Island mussels with gnocchi and caviar in saffron broth; lingcod ravioli with botargo, chili, and garlic). All deliver intense, beautifully balanced flavours. He's his own pastry chef. His culinary knowledge is encyclopedic, and his ability to devise dishes that pair with unfamiliar wines is unparalleled.
The renowned Daniel Boulud recently called Pino Posteraro the best chef in Vancouver. After his busy, varied, and productive 2013, who are we to disagree?